What is the Role of a Medical Representative – MR – The Indian Pharmaceutical Sector is hastening towards growth, and success and takes along endless career opportunities for dedicated individuals. At present times, this sector is a hub of numerous business dimensions. Among all, the job of Medical Representative or MR is gaining the utmost popularity. The Role of a Medical Representative in the pharmaceutical industry is robust and thriving.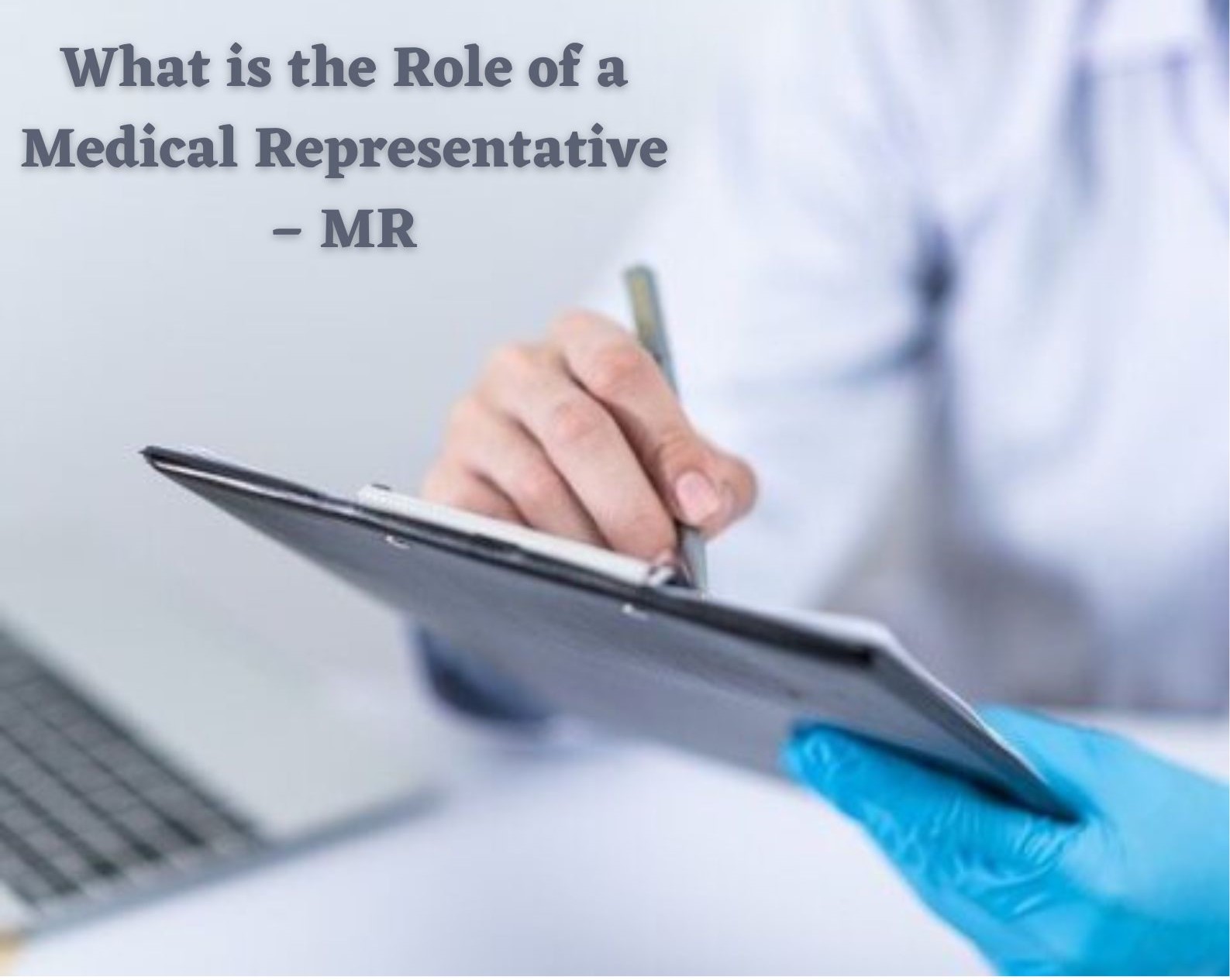 A Medical Representative is the backbone of a pharmaceutical firm that serves as the voice of the company in front of its consumers. They are the primary source of communication for pharmaceutical and medical companies as well as healthcare providers. They primarily sell and promote the company's medicines, drugs, medical equipment, and prescription drugs. If you want to get comprehensive information about What is the Role of a Medical Representative – MR, then you must refer to this informative blog presented to you.
Role of a Medical Representative – MR
A Medical Representative is the pillar of a pharma company that performs multiple tasks in a day. They serve as the company's platform in front of customers, sharing the company's vision, promoting the company's products, and achieving the company's goals, which are then translated into income. If you are an interested individual who is willing to know What is the Role of a Medical Representative – MR, consider reading the essential points mentioned below:
To represent the pharmaceutical company.
To keep the doctors and healthcare professionals up-to-date about new medical products.
To meet and sustain sales targets on a monthly, quarterly, and annual basis.
To stay updated with the latest innovations in the healthcare sector.
To gain a complete understanding of the company's formulations.
To provide timely and effective customer services.
To precisely schedule appointments with doctors, pharmacists, and healthcare professionals.
To maintain client relationships and guarantee client satisfaction with their healthcare products.
To develop pitches that demonstrate the value of their medical product to patients.
To prepare authentic presentations for customers.
To follow up with the doctors & healthcare professionals to learn about their feedback on medical products.
To negotiate contracts and deeds with potential clients.
To do appropriate research about competitors' medications and their presence in the market.
To manage and grow a designated zone in order to increase sales.
To establish productive relationships with doctors both through online and offline means.
Necessary Skills Required for the Post of Medical Representative
To become a successful Medical Representative, an individual must excel in certain skills that are considered important for this spot. A set of skills and abilities extends the prospects of getting rapid success. Following are the premium skills that one must polish for this profile:
Active Listening Skills
Clear and Positive Attitude towards Work
Remarkable Organizational Skills
Excellent Communication and Listening Abilities
Good Marketing Skills
Problem-Solving and Calming Approach
Ability to Deal with a Variety of Customers
Ability to Take Decisions
Ability to Choose the Right Product for the Right Customers
Good Analytical Skills
Time Management Skills
Disciplined and Punctual Attitude
Eligibility Requirements to Become an MR
Like other domains, the job profile of a Medical Representative also has certain eligibility requirements that are needed to be fulfilled by the candidate. This is to ensure that the candidate can expertly play the Role of a Medical Representative and can grasp things with ease. Check out the Eligibility Requirements to become a successful Medical Representative in the pharmaceutical sector:
A Bachelor's Degree in pharmacy, science, nursing, or B Pharmaceutics.
General Knowledge of Microsoft Word, Excel, PowerPoint, and Outlook.
General Knowledge of the arena of medicine and pharmaceuticals.
Medical Sales Experience Certificate.
Educational Background in Life Sciences or Biology.
A Valid Driving License
General Tips to Become a Successful Medical Representative
The Role of a Medical Representative is not a task if you hold the capability of performing it with complete dedication and if you possess a good experience. To help you ace your post, we have rounded up some of the general tips right below that can be beneficial for you to become a successful Medical Representative.
Pursue a Higher Secondary education in Biology and Mathematics from any reputable institution and perceive good exam results.
Secure a good experience in the medical field to broaden your horizons. This will increase their chances of landing a position as a Medical Representative.
Acquire the certificates that highlight your capabilities and potential in the respective field.
Attend seminars or courses in related medicine subjects as it can help you to enhance or polish your skills.
We expect that you are now aware of What is the Role of a Medical Representative – MR and how you build your lucrative career in this field. If you believe that you can efficiently play the role of an MR and you have the skills that are mandatory for this job profile, then no one can stop you from becoming a successful Medical Representative. However, if you want to become the face of the most reputable and trustworthy pharmaceutical company, then connect with the most reliable healthcare brand, Servocare Lifesciences.
To Know More, Contact Us!
Name: Servocare Lifesciences
Address: S. C. F. No. 246, Motor Market, Manimajra, Chandigarh – 160 101
Phone: +91-9872219010
Email: servocaregroup@gmail.com