Pharmaceutical Exporter in India – India is a significant part of the global pharmaceutical and vaccine market. It is the biggest supplier of generic medications in the entire world. The majority of the pharmaceuticals that are exported from India are drug formulations and biologicals, which make up about 75% of all exports. Servocare Lifesciences has emerged as the Top Pharmaceutical Exporter in India in response to the rising demand for various pharma medicines around the world. The company is engaged in manufacturing, distributing, and trading a variety of pharmaceutical products, such as dermatological, nutraceuticals, neuropsychiatric, cardiac diabetes, etc. The organization has established a solid foothold in the CIS, UK, Ghana, Nigeria, Afghanistan, Liberia, and the Middle East markets, as well as in domestic and foreign markets. In addition to holding ISO, WHO, HACCP, GCCLP, and GMP certifications, we also have a global presence in African and European nations.
Servocare Lifesciences is a prominent private-label manufacturer and exporter of pharmaceuticals. Our company works with numerous pharmaceutical businesses, making us the finest Pharma Exporter in India. The company is referred to as the greatest Pharmaceutical exporter company in India and has a customer base that is constantly expanding. Under the supervision of qualified pharma professionals, every product line that the company offers is first evaluated in reputable NABL-approved labs. You can receive top-notch products from Servocare, and the organization can assist you in achieving the highest level of success in this industry. With our assistance, you can simply accomplish your business objectives and generate substantial earnings.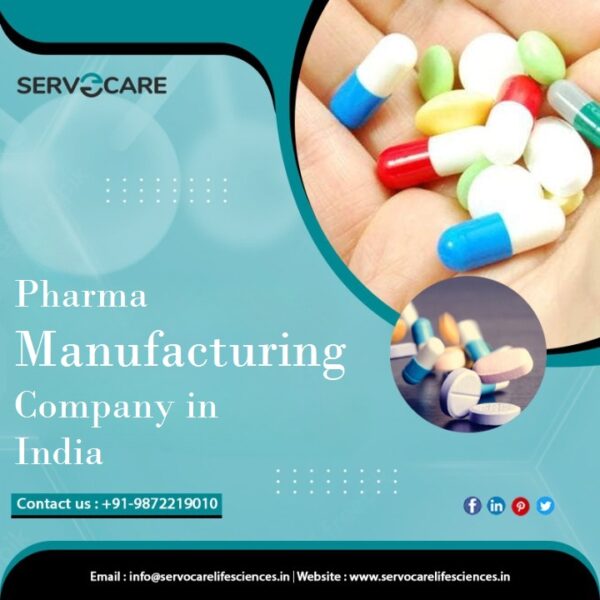 To learn more about our export facilities and other lucrative benefits, get in contact with us today. Give us a call at 91-9875921201, or drop us an email at servocaregroup@gmail.com.
Leading Pharmaceutical Export Company in India | Servocare Lifesciences
Servocare is well-recognized throughout the world for its exports of pharmaceutical products, including drugs, OTC medicines, and other products. The company has significantly expanded its export network since its inception in 2005. Servocare Lifesciences is one of the most well-known pharmaceutical exporters and suppliers in India and is aiming to create new standards for success with the high-quality work it does. The organization has also been listed among the top Indian companies producing generic medicines for over a decade. Our company uses the premium raw material in a variety of ways and has a full set of licenses and other documentation, which has helped us establish ourselves as a leader in the modern pharmaceutical industry.
Our company employs efficient production methods in addition to certain economical approaches to ensure that the associated professionals receive the treatment they are due.
The organization has invested in cutting-edge equipment and techniques that can easily handle processing large orders.
For the production work, all QA/QC requirements set forth by leading governing authorities are adhered to.
The company regularly introduces newer and better methods to enhance production work.
Extensive Variety of Pharma Products Range Exported from India
Servocare Lifesciences has always put a priority on providing a wide variety of pharma product ranges to all of its associates around the world. We offer a variety of categories that are in high demand in numerous places both inside and outside of India. The company deal in both branded and generic medications for private labeling. The organization currently provides all of its affiliates with access to more than 500 items. All of them have received the DGCI and other authorities' approval and are prepared for exportation to various countries. Dermatology, cardiology, anti-diabetic, neurology, psychiatry, nutraceuticals, and many other topics are covered. Check out the drug ranges of the best Pharmaceutical Exporter in India has to offer for export to other nations.
| | |
| --- | --- |
|                 General / Ortho  |                     Neuropathy |
|                 Anti-fibrinolytic |                      Laxative |
|                    Dental |                      Paediatric |
|                   Alkalizer |                      Antibiotic |
|                Antispasmodic |                     Antiemetic |
|                Dermatology |                        Liver |
|              Proton Pump Inhibitor |                       Urology |
|                   Antacid |                      Supplement |
Benefits of Choosing Servocare for Pharmaceutical Exporter in India
Servocare Lifesciences takes great pride in having a team of professionals who are knowledgeable about global industry standards supporting it. The company is connected to India's top distribution networks, which enable it to deliver all of its manufactured products on schedule. Our company is listed among the top Pharmaceutical Export Companies in India. Additionally, we make sure that all of our items have high-quality packaging in addition to high-quality medications.
Quality of medications: The core values of our organization are ethical standards and practices. We are dedicated to offering our clients the best products and services possible, both domestically and abroad. The company is well aware that the market is continually evolving and that it must update its infrastructure and operational practices to keep up. Our objective is to consistently lead the industry in satisfaction, service, and quality.
Affordable Range of Products: Our company takes pride in providing top-notch services at a competitive price. You can be confident that you will get affordable services that meet your demands by working with the top pharma exporter in India.
Modern technology: We're dedicated to giving our customers the finest experience possible. As a result, we handle orders swiftly and effectively using state-of-the-art equipment and technology. By leveraging cutting-edge technology to quickly complete orders, the company is able to meet the demands and expectations of its customers.
Exporting Services: Servocare offers contract, private label, and third-party manufacturing services at reasonable rates. In order for our pharmaceutical clients to afford to buy their products, we likewise work to keep our expenses low.
What makes Servocare Lifesciences the Top Pharmaceutical Exporter in India?
Servocare Lifesciences is one of the leading Medicine Manufacturers in India. The company is formally recognized as an Indian pharmaceutical company that engages in manufacturing and distributing a variety of medicinal formulations. Due to our extensive pharma industry experience, we have successfully provided a wide selection of medicines to all of our long-term clients. Our company's private labeling services are highly noteworthy and are recognized by a sizable number of healthcare professionals. Servocare possesses a number of characteristics necessary for becoming India's next top pharmaceutical firm. The company is also listed among the top pharmaceutical medicine exporting companies in India due to its ties with numerous potential pharmaceutical corporations. Look at some of the characteristics that let us distinguish ourselves as the leading Pharmaceutical Exporter in India in the midst of the fierce competition.
Economic Services: The prices for the services offered by our company are quite reasonable. Once you are connected with the leading Pharmaceutical Export Company in India, you should be certain that you'll receive affordable services from our end.
Exporting Services: Servocare offers contract production, third-party manufacturing, and private labeling services at very competitive rates. We also make an effort to maintain the prices as low as feasible in order to ensure that the linked pharma client receives their products at the most affordable price.
High Productivity: The company put forth a lot of effort to make sure that the associated clients get paid fairly and as efficiently as feasible. The organization uses the newest and most advanced equipment to handle orders in large quantities.
Strong dedication to excellence: Our company is built on ethical standards and conduct. We are dedicated to offering our clients the best products and services possible, both domestically and abroad. To keep up with the continuously shifting demands of the industry, we are constantly updating our facilities and practices. Being the best in the business in terms of quality, service, and satisfaction is our aim.
Documentation Required for Export Purposes from India
Servocare Lifesciences is a pharmaceutical company that is committed to providing its services in the most professional way possible. As a result, the organization is constrained by professionalism when providing services. After conducting extensive research, the company offers its exporting services to everyone in order to have all processes operate smoothly. The pharma professionals who are connected to us also help us to make sure we follow the most recent news, regulations, trends, and pharma industry news. Take a look at the list of documents that our organization offers.
Certificate of incorporation
The product's Indian Trade Classification (HS)
Returned Check
Business PAN number
Number IEC
Evidence of ownership, business location, or rental contract
GMP accreditation from WHO
Statements of Bank Account and other financial records
Certificates from Banks and other Customs Documents
Procedure to Apply for Exporting Pharma Medicines from India
Your business can export medicines to foreign nations if it is registered as a pharmaceutical company in India.
An IEC number with an Indian import-export code must first be obtained.
If you're interested in importing pharmaceuticals from India, you can get in touch with exporters from different nations.
Register your products with the nation or nations you plan to export to.
You must first acquire a DGCI license in order to send your goods to international markets (DRUG CONTROLLER GENERAL OF INDIA)
The best course of action is to settle on your delivery option before you start exporting medications. As an alternative, you may choose a seasoned pharmaceutical supplier, exporter, or trader.
You must create a business invoice in accordance with the provisions of the credit letter or purchase order.
We have a relationship with a freight forwarding business to ship the material to the correct nation in response to your request.
You must go through customs clearance after completing all the government paperwork.
The regulatory body's approval is required before drugs may be sent to importing nations.
However, the importing nation must also complete customs clearance.
Therefore, if you're seeking the top Pharmaceutical Exporter in India get in touch with us today by using the information given below.
Contact Details:
Name: Servocare Lifesciences
Address: SCF No – 246, Motor Market, Manimajra
Phone: +91-9875921201
Email: servocaregroup@gmail.com.