Pharma PCD Franchise in Muzaffarnagar – Looking for secure career pathways from a reliable source? Seeking high-profits, and support from a prominent brand? Then you can connect with Servocare Lifesciences! The company has the most attractive franchise business opportunities at very genuine rates. We are helping newbie entrepreneurs to set their own businesses in the pharma sector. Thus, considered the Best PCD Pharma Franchise Company in Muzaffarnagar.
Our company is dedicated to the ailing mankind of the country, therefore, formulates the most effective, patient-friendly, and affordable products leveraging its R&D expertise, extensive experience, and the latest technologies. Currently, the company is commercializing a perfect array of pharma products and medications in various shapes, colors, and forms. Therefore, climbed the ladder of success and have become the best for PCD Pharma Franchise in Muzaffarnagar.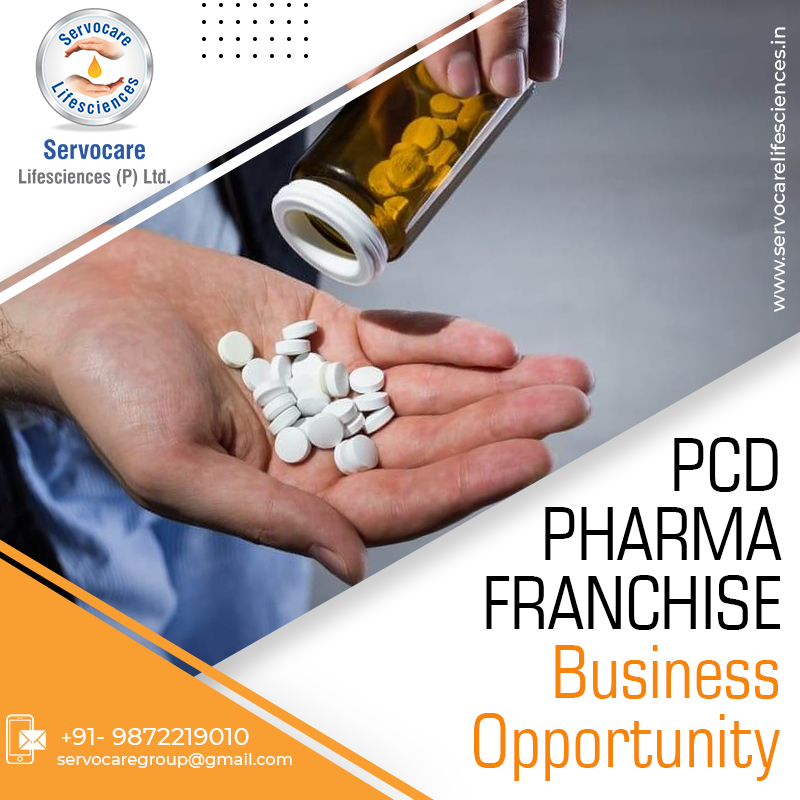 To attain a franchise from us, or for detailed information about our product portfolio, you can make a call at +91-9872219010 or send us your query through email at Servocaregroup@gmail.com.
PCD Pharma Franchise in Muzaffarnagar | Fulfilling Opportunity
Muzaffarnagar is a city in Uttar Pradesh where there is an immense demand for quality pharmaceutical products. The city has both public and private medical facilities along with several practitioners who are catering great medical treatments to the people. But still, people are seeking improvement in the healthcare system, therefore, the scope of investing in the PCD Pharma Franchise in Muzaffarnagar is huge.
Furthermore, the city contains 4.96 lakh inhabitants who have increasingly high disposable incomes. They don't hesitate on spending best-in-class pharma products to maintain a healthy life. And it is forecasted that a pharmaceutical company that will provide unique products to the needful will get their desired profits and success. So get in touch with us and tap into the booming pharmaceutical industry!
Multidimensional Product Range for Pharma Franchise Business
Servocare Lifesciences is a compliance-driven and quality-oriented pharmaceutical company that is focused on the needs of consumers and clients. We formulate products using biologically active ingredients sourced from certified vendors to manufacture patient-friendly products. Along with it, we ensure international standards, regulatory norms, and quality protocols while conducting the whole extraction and formulation process. Further, the manufacturing process is conducted under CCTV surveillance.
Product Portfolio for PCD Franchise in Muzaffarnagar:
Derma Range,
Neuro Range,
Cardiac Range,
Diabetic Range,
Ayurvedic Range, etc.
At our firm, we manufacture products in the above-listed segments and various dosage forms including Tablets, Capsules, Sachets, Injections, etc. Choose any of your desired segments for your PCD Pharma Franchise in Muzaffarnagar, and tap into the booming pharma industry!
Leading PCD Franchise Company in Muzaffarnagar – Servocare Lifesciences
Our company has registered its name on the healthcare map of India by offering exceptional franchise services, and top-notch quality pharma products to its consumers, and clients. We have gained the trust of thousands of clients all across the country by delivering them 100% pure, safe, and most effective pharma products. Apart from this, we have become the Best PCD Pharma Franchise Company in Muzaffarnagar due to our salient features.
Some Highlights of Servocare Lifesciences:
The state of art cGMP manufacturing facility,
Usage of superlative quality raw ingredients,
Contamination free Spacious warehouses,
Sophisticated infrastructure, etc.
These are some attributes of our leading PCD Pharma Franchise Company in Muzaffarnagar that makes our brand shine among all. If you want to reach greater heights in your pharma business, and want to get desired profits and success then get in touch with us today!
Marvelous Perks for Our Valued Franchise Associates in Muzaffarnagar
Being the Best PCD Pharma Franchise Company in Muzaffarnagar, we never leave the hands of our franchise partners instead we provide them full support from our ends. Our franchise associates can run their business smoothly and efficiently. Along with it, they can make their own decisions and can get a stronghold over the market.
Benefits of Linking with Servocare Lifesciences:
High-demanded product range,
Timely Delivery of Products,
100% stock availability,
DCGI approved molecules,
Great Revenue returns,
Unique Monopoly Rights, etc.
If you want to be profitable over the long run in your PCD Pharma Franchise Business in Muzaffarnagar then hold the hands of Servocare Lifesciences. You'll get the most innovative products for your business!
Promotional Support for PCD Pharma Franchise in Muzaffarnagar
We know the value of promotional support in the pharmaceutical business and want that our franchise associates should grow with us. Therefore, we provide remarkable promotional tools to them at zero cost. And after collaborating with us you also don't need to spend money on promotional material.
Promotional material for PCD Franchise in Muzaffarnagar:
MR Bags,
ASM Bags,
Visual Aid,
Reminder Cards,
Doctor Pads,
Order Books,
Gift Articles, etc.
If you are planning to set up your own business in the pharma field then make contact with the Best PCD Pharma Franchise Company in Muzaffarnagar – Servocare Lifesciences. We have the best business proposals for you at very genuine prices!
Contact Information
Name: Servocare Lifesciences
Address: SCF No – 246, Motor Market, Manimajra
Phone: +91-9872219010
Email: servocaregroup@gmail.com.